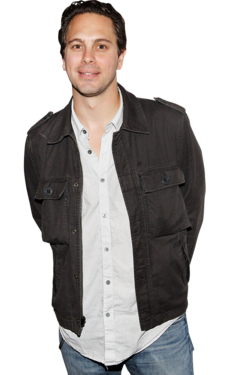 Thomas Sadoski on Other Desert Cities, Aaron Sorkin's HBO Drama, and the Truth About Californians
In Other Desert Cities, opening tonight at Broadway's Booth Theater, Thomas Sadoski plays Trip, a seemingly laid-back reality-TV producer spending Christmas in California with his rich, dysfunctional family: his sister (Rachel Griffiths), an author about to drop a bombshell on the family; his Republican elite parents (Stockard Channing and Stacy Keach); and alcoholic aunt (Judith Light). While Sadoski, 35, is a Tony-nominated actor for Reasons to Be Pretty, he isn't a household name — unless your household watches the Tonys. But that may change with his turn in Aaron Sorkin's new cable-news drama, premiering on HBO next year. We talked to Sadoski about his favorite reality-TV shows, Stockard Channing's advice on working with Aaron Sorkin, and Californians.

You've been working a long time, but of your cast, you're the least well known to mainstream audiences.
I think that is profoundly accurate. And that's okay. I'm just as surprised I'm in this as anyone else.
How often do you get recognized on the street?
Never. Almost never. Only by friends, and even then not so much. I'm a straphanger actor. I've never had a car to drive me home. This is the first time I've done a show and not had to take the subway.
How did you end up in New York?
I was a cook in Texas for a while, and it sort of got to the point where I said I wanted to be an actor. I explored it in a small community theater. Then I had to make a choice: I was either going to go west from Texas or east. And I had fallen in love with theater. I grew up on Paul Newman and Spencer Tracy. They were theater rats. If that's how they got started, that's what I wanted to do.
Yet in the play, your character is California personified: happy and easygoing on the outside, but dealing with a lot of stuff on the inside. Is that how you see it?
Absolutely. I think there's a veneer, particularly to Southern California and our impressions of it, that it's all laid-back, the sun's always shining, and everything's fine. And the reality of the situation is that it's not. You're living on ground that is quite literally about to burst apart. That informs the people who live out there to some extent. It's suffocating. There is desperately a voice that wants to be heard that is saying, "Just because it's sunny doesn't mean everything doesn't suck."
Have you ever lived in L.A.?
In the course of doing this professionally for twelve years, I've done a cumulative year in my life out there. I will spend more time after this. I'm leaving the show in January, because I'm out in L.A. for five or six months shooting an Aaron Sorkin TV show for HBO. It will be interesting to spend a straight shot out there. With any luck, the TV show will run for a while, and I'll get to spend more time out there.
I saw the show was called More As the Story Develops, but that the name is changing. Does the show have a name yet you can say?
My understanding is perhaps that name is changing. We shot the pilot as More As the Story Develops, and as far as I'm concerned, that's the name.
What's your character on the show like?
I am playing an executive producer of a prime-time cable-news show. My character is similar to Trip in the sense that he's unrattled, unflappable. He doesn't have a personal vendetta and doesn't think the news should have an opinion. My character thinks he has to entertain people and provide facts in a clear, logical way, or we're going to go off the air.
Has Stockard Channing given you any advice about working with Aaron Sorkin, since she worked with him on West Wing?
I came to Stockard right away. I'd done little guest spots on TV, but nothing as a series regular, nothing like this. She told me that working with Aaron, you try to get it letter perfect. I took that advice, and I went in feeling a little ahead of the game.
On the flip side of things, your character in the play produces a reality show called Jury of Your Peers that's kind of Judge Judy meets Celebrity Apprentice. Is that the kind of show you would watch?
Oh, hell no! Well, that's my knee-jerk reaction. I like to pretend I'm not a reality-TV fan. I can't abide by Jersey Shore, but after a long day, I turn on MythBusters or Storm Chasers.
A 2009 New York Times profile of you said you rescheduled your honeymoon to do a play. You're still married twelve years later, so I assume you made it up to her. Would you do that at this point in your career?
I think it's a tricky thing. This job is a very, very jealous mistress. Early on in my career I was very afraid somebody was going to wake up, and realize I was gaming the system and they'd kick me out. I think I've gotten to a point in my life now where the most important thing is family, and that would never happen again.
Photo: Rob Kim/FilmMagic