How Ben Stiller and Eddie Murphy Connect Every Single Buddy Comedy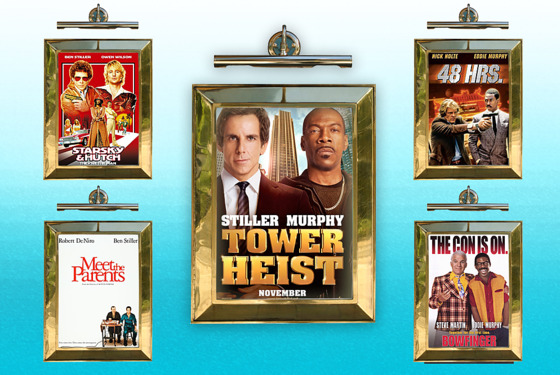 When we first saw the poster for Tower Heist (which opens tomorrow), with its buddy-movie touting of STILLER and MURPHY at the top, the whole thing simultaneously felt very familiar and very disorienting. There are a finite number of big comedy stars in the world and therefore a finite number of buddy-movie combinations; looking at these two it seemed inconceivable that this could be their first pairing … and yet we could remember no other joint project. We searched our buddy movie database top to bottom for reassurance that this was in fact a reunion, but no. And yet, in tearing IMDb apart, we made a discovery: The reason why this pairing feels so familiar is because Eddie Murphy and Ben Stiller are the two ends of a road map that leads through nearly every buddy-movie alumnus of the past 50 years, from Jack Lemmon and Walter Matthau to Jonah Hill and Michael Cera. If you start at Murphy and, applying the Six Degrees of Kevin Bacon rules, leap from buddy-movie co-star to co-star, project to project, you will eventually end up at Stiller and have hit nearly everybody. Sure, there are some dead ends and some switchbacks, but if you follow our route, you will see that there was a direct line from Murphy to Stiller the whole time, it just took a while to get there.
Eddie Murphy was in …
Life with Martin Lawrence
who was in Bad Boys with Will Smith
who was in Men in Black with Tommy Lee Jones
who was in Space Cowboys with James Garner.
Here we find a MAJOR James Garner intersection, with four possible roads. Warning: Some lead to dead ends.
James Garner Route 1
James Garner was in Maverick with Mel Gibson
who was in Air America with Robert Downey Jr.
who was in Due Date with Zach Galifianakis ...
DEAD END. RETURN TO GARNER.
James Garner Route 2
James Garner was in Sunset with Bruce Willis
who was in The Whole Nine Yards with Matthew Perry
who was in Almost Heroes with Chris Farley
who was in Tommy Boy with David Spade.
Dead end at Saturday Night Live in the early nineties! Back up to Bruce Willis, who was in The Last Boy Scout with Damon Wayans
who was in Bulletproof with Adam Sandler
who was in I Now Pronounce You Chuck and Larry with Kevin Smith. Damn. Another Saturday Night Live DEAD END.
James Garner Route 3
James Garner was in My Fellow Americans with Jack Lemmon
who was the original buddy with Walter Matthau (The Fortune Cookie through The Odd Couple II)
who was in The Survivors with Robin Williams
who was in Fathers' Day with Billy Crystal
who was in Analyze This/That with Robert De Niro
who was in Midnight Run with Charles Grodin
who was in Taking Care of Business with Jim Belushi
who was in Red Heat with Arnold Schwarzenegger
who was in Twins with Danny DeVito
who was in Wise Guys with Joe Piscopo … whoops, we're Eddie Murphy adjacent again. How did we get turned around like that?
Oh, we missed the Robert De Niro turn! Let's go back and pull over at Meet the Parents with ... Ben Stiller!
But wait, there's one other optional James Garner route.
James Garner Route 4
James Garner was also in Space Cowboys with Clint Eastwood
who was in The Rookie with Charlie Sheen
who was in Money Talks with Chris Tucker
who was in Rush Hour(s) with Jackie Chan
who was in Shanghai Noon with Owen Wilson
who was in Starsky and Hutch with Ben Stiller!
Might we suggest some scenic day trips off the main road?
APATOW ALLEY
Instead of taking Owen Wilson to Starsky and Hutch, veer off to The Big Year with Jack Black
who was in Year One with Michael Cera
who was in Superbad with Jonah Hill
who was in Get Him to the Greek with Russell Brand.
FUNNY OR DIE AVENUE
Or, take Owen Wilson to Wedding Crashers with Vince Vaughn
who was in Old School with Will Ferrell
who was in Step Brothers with John C. Reilly. (Feel free to pull off at Vince Vaughn to meet Ben Stiller at Dodgeball.)
CLASSIC BUDDY ROUNDABOUT
Right when first leaving Eddie Murphy, you can take Bowfinger to Steve Martin
who was in Planes, Trains and Automobiles with John Candy
who was in The Great Outdoors with Dan Aykroyd
who was in Spies Like Us with Chevy Chase
who was in Three Amigos with Steve Martin, and that'll get you right back to Eddie Murphy.
ADDENDUM: The list only includes male buddy comedies (sorry, Outrageous Fortune!) because once you go intergender, it becomes a romantic comedy, which is a whole different route. Also, as much as we wanted to include Role Models on this list, we could not make the leap to Paul Rudd from Will Ferrell's Blades of Glory without going through School for Scoundrels and Mr. Woodcock, which are more antagonist movies than buddy comedies. But feel free to suggest other routes in the comments!