Tyler, the Creator Won't Be Rapping About Dead Bodies Anymore
"It just doesn't interest me anymore."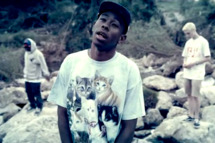 The Odd Future ringleader is already working on a new album, but he claims it will steer clear of Goblin's more controversial references. "Talking about rape and cutting bodies up, it just doesn't interest me anymore ... I can't rap about the same shit." What's Young Tyler into these days, then? "Weird hippie music for people to get high to," he tells SPIN. His album of said hippie music is called Wolf, and it'll be out sometime in spring 2012. And now, let's go out with an uncharacteristically sunny quote from Tyler: "I've never been this happy in my life. I just got a shirt with a fuckin' cat on it!" A cat shirt!