USC Study Confirms Gender Inequality in Film
To the surprise of no one, a USC study finds that women are underrepresented on the big screen.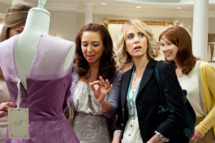 No matter how you may feel about women's issues, in Hollywood or anywhere else, the numbers in USC's new study on gender inequality in film will at least raise an eyebrow, if not your ire. Examining the 100 top-grossing movies of 2009, the study finds that almost 70 percent of the 4,342 speaking roles were male (despite the fact that women buy more than 50 percent of the movie tickets in the U.S.). There are many other numbers from the study that are just as, if not more, sobering, but what's also startling is that the numbers are consistent from years previous — in other words, the more things change, they more they Michael Bay/stay the same. The study will be released by USC's Annenberg School for Communication & Journalism on Monday.