Who Should Host the Oscars?
Billy Crystal, Neil Patrick Harris, Tina Fey, or someone far more outlandish?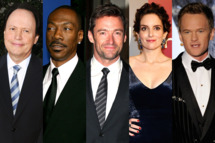 So now that Eddie Murphy's called it quits, let's get down to prognosticating: Who should host this year's Oscars? If Vulture were laying bets, we'd put our money on Billy Crystal, a reassuring, experienced regular who wants the gig and would be able to hit the ground running. (Bonus factoid: Crystal has experience stepping in for an outta-here Murphy. When Murphy started phasing out of Saturday Night Live in 1984 to do movies, Crystal became a recurring host, and the next year became the show's next breakout regular cast member.) Other front-runners include Steve Martin (calm, reliable, and reassuring) and Neil Patrick Harris, who did such a great job at the Tonys but may be a little bit of an on-the-nose choice given the reason producer Brett Ratner resigned. But why stop at the usual suspects? Harvey Weinstein is pulling for Tina Fey and Lorne Michaels, we're pretty sure Robert Downey Jr. would do a riveting job, and is Ryan Gosling any more outlandish a choice than James Franco (even though we all know how well that turned out)? Who would you like to see get the gig? Fey and Amy Poehler? George Clooney? Babyoncé? The eerie Bob Hope hologram from last year's show? Shout it out in the comments.