You Can Now Buy Dunder Mifflin Paper Products
It's the inevitable marketing tie-in to <em>The Office</em>.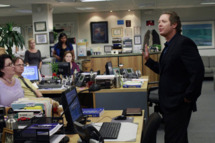 The Office has had plenty of success selling its Dwight Schrute bobbleheads, but the potentially more inevitable marketing tie-in — actual Dunder Mifflin paper products — always seemed like too far a reach. After all, it's just paper, right? Would you really pay more for a sheaf of paper with a Dunder Mifflin watermark, and what would you do with it after your purchase? ("You printed these Google Maps directions on our good Dunder Mifflin paper?") We'll soon find out the answers to those questions, because The Wall Street Journal reports that Staples subsidiary Quill.com just inked a deal to sell Dunder Mifflin–branded paper, which will come in packages emblazoned with slogans like, Our motto is, 'Quabity First' and Get Your Scrant On. NBC will receive 6 percent of the profits on the tie-in paper, which already ensures that it will be promoted more heavily than Community ever was.