Coping With the Deschanel-Gibbard Breakup: Vulture Analyzes the Musical Clues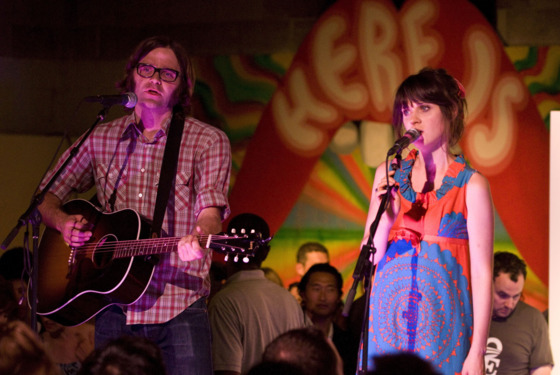 Last night, indie-music enthusiasts the world over were (gently) rocked by the news that super-couple Zooey Deschanel and Ben Gibbard are separating. They'd seemed so happy so very recently, and the timing was particularly puzzling, given Zooey's exploding TV stardom and both parties' recent albums. But maybe we were missing the signs? Could Zooey and Ben have been secretly preparing us for this turn of events? To try to make sense of the developments, Vulture went back to the source material — Death Cab for Cutie's Codes and Keys, released earlier this summer, and A Very She & Him Christmas — to search for clues. Below, our track-by-track analysis of the heartbreak.
Death Cab's Codes and Keys (All songs written and composed by Ben Gibbard)
"Home Is a Fire" (with Chris Walla)
The album begins inauspiciously, as Ben complains about his new home life: There are too many windows, overwhelming freeway noise, and, as he notes repeatedly, "nothing's the same." Is Gibbard just dissatisfied with Zooey's decorating tastes (she does enjoy blue), or is this a sign of bigger struggles to come?
"Codes and Keys"
This is a relatively upbeat number, sure, and it resolves with Ben singing "We are one / we are alive," but hidden in the middle verse is some troubling behavior: Why is Zooey lying on the floor, or throwing stones at the sky? Maybe Zooey's New Girl prep is beginning to wear?
"Some Boys"
"Some boys don't know how to love," Gibbard sings, and we assume he's talking about the poor dudes who aren't settled down with Zooey Deschanel. But what if he was talking about himself?!
"Doors Unlocked and Open"
If you are singing about a future in which you can live "in slow-motion and be free," then, we don't know, maybe things aren't so cheery in the present.
"You Are a Tourist"
Oh boy: "doubt within your mind," tears, "best intentions … in need of redemptions" and something about feeling like the villain? (Rhymes!) Ben is unraveling fast.
"Unobstructed Views" (with Chris Walla)
This one is pretty cheesy about love and other related matters. Zooey probably bought him a nice present.
"Monday Morning"
And just as soon, we're back to easy-listening desperation. Some of these lyrics are actually quite specific: "She may be young but she only likes old things / And modern music, it ain't to her taste" sure sounds like a certain vintage-loving Williamsburg pinup. And the lady in question seems more than a little impulsive: "within a blink of her eyes it changes / back to the open plain, oh no, she can't explain." Then comes all the stuff about nighttime and vultures and other signifiers of broken hope. This is a pretty obvious warning shot; how did we miss it?
"Portable Television"
"Portable television, take us away / from this burden of reflection we've carried today." Ben is tired of feeling. (To be fair, he does a lot of it.)
"Underneath the Sycamore Tree" (with Chris Walla)
Ben hasn't given up quite yet: Though he acknowledges the relationship's serious problems ("I know you've got a vengeful heart / and I cannot be stopped as soon as I start"), he's still holding out for a reunion. "We are the same / we are both safe." Will Zooey agree?
"St. Peter's Cathedral"
"This is the end / and there's nothing past this (x8)." So: no.
"Stay Young and Go Dancing"
Ben, like the rest of us, just wants to remember the good times, so he goes out on a high note: "When she sings I hear a symphony … we'll stay young go dancing." If only we could, Ben. If only we could.

A Very She & Him Christmas
As Christmas music aficionados will notice, Zooey's new holiday album does not include any original songs, so we'll have to make do with song choice as an indication of emotional intent. But first, a more general question: Why would Zooey choose to do a Christmas album with someone other than her husband? Sure, she has her own band, but aren't the holidays about family?
"The Christmas Waltz"
"It's that time of year / when the world falls in love." Why do you need to fall in love, Zooey? Did you fall out of love?
"Christmas Day"
It's pretty hard to turn the Beach Boys into sad, breakup-y material. This one is nice.
"Have Yourself a Merry Little Christmas"
Okay, and we're back to heartbreak: "Next year all our troubles will be out of sight." Because we will be divorced. Ouch.
"I'll Be Home for Christmas"
Another wistful holiday selection, in which Zooey has to dream of a happy Christmas, because a real one probably won't happen.
"Christmas Wish"
Listen, sometimes Zooey is just singing about Christmas. It's not all about her.
"Sleigh Ride"
Yup, more Christmas.
"Rockin Around the Christmas Tree"
And some Christmas dancing.
"Silver Bells"
Now to the Christmas decorations.
"Baby, It's Cold Outside"
Oh, and some vaguely uncomfortable Christmas flirting for good measure.
"Blue Christmas"
Herrrrre we go, Zo, let it all out. "You'll be doin' all right, with our Christmas of white / But I'll have a blue, blue Christmas." For what it's worth, she sounds genuinely sad on this particular track.
"Little Saint Nick"
Same Beach Boys rules apply.
"The Christmas Song"
Zooey, like Ben, chooses to end on a positive note, with a simple "Merry Christmas to you." Why does she have to say it in song? Because she won't get to tell Ben in person. Okay, this is getting depressing now. Stay strong, everyone (and maybe avoid Plans for a few weeks; that album is actually soul-crushing).