50 Cent Would Like to Make Love to 'Really Up-Tempo' Music
"These are intense questions for me."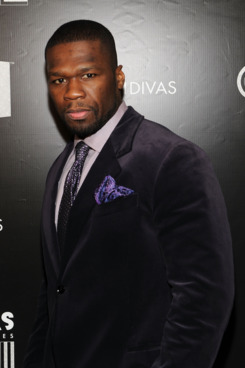 At Sunday's taping of the VH1 Divas special, 50 Cent was a surprise guest, escorting Chaka Khan on the red carpet, and singing her praises. When Vulture asked the never modest Fitty how he's like a diva, he responded in his usual loquacious manner: "Me, like a diva? Well, I like to think I'm pretty anal. That's what diva means, to be anal, pay attention to detail and to have expectations of it being executed; to earn it's actually being done, because we don't have divas that didn't actually work to get into the space that they're in. And Chaka Khan is definitely the definition of diva, that's why it's exciting for me to be here tonight," he said, before pausing, and following up with, "But I don't want to give you these winded answers so you don't get a chance to talk."
Taking our cue from 50, we quickly asked what his favorite soundtrack is for making love. (VH1 Divas is celebrating soul music this year, so that's not an entirely voyeuristic query.) "These are intense questions for me," he stammered. "That's the first time I've been approached with a question like that. That's pretty tough, right?" We told the rapper-actor-author that this was definitely the first time we can remember him being at a loss for words. "Yeah," he agreed. "You know, maybe it would be, like, really up-tempo music?"