Abel Ferrara to Make Film Based on DSK Scandal
<span>G&eacute;rard Depardieu</span> might star. Zut alors!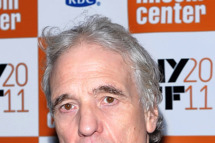 Director Abel Ferrara, best known for his depictions of unsettling violence and one especially unsettling moment of male nudity (Harvey Keitel in Bad Lieutenant cannot be unseen), has not-so-surprisingly found some artistic inspiration in the Dominique Strauss-Kahn scandal. He and screenwriter Christ Zois are writing a script based on the DSK incident that also incorporates elements of other political sex scandals (Clinton, Berlusconi), aiming for something of a "Les Bad Husbands." Two of France's most celebrated actors, Gérard Depardieu and Isabelle Adjani, are reportedly interested in playing Strauss-Kahn and his wife, Anne Sinclair, but who will/can play the maid/Monica/"bunga bunga" role is yet to be determined.