Animal Collective Is Working on a New Album
They're recording in January.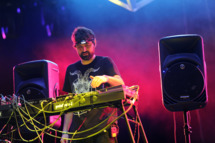 Avey Tare reports that the band is hard at work on their first full-length effort since Merriweather Post Pavillion: "We just finished another two weeks of writing session and put together five [more] new songs." Pitchfork does a little quick math on that number and figures that with the ten songs Dave Portner mentioned back in July, the gang has fifteen tracks total in their back pocket. They plan to start recording sometime in January. Oliver Platt is so excited!