Who'll Replace Benicio Del Toro in Star Trek 2?
Edgar Ramirez is the front-runner.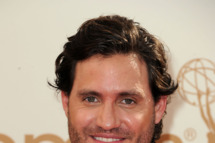 As Vulture told you a few days ago, J.J. Abrams was in talks with Benicio Del Toro to star as the villain in his sequel to Star Trek, but Del Toro fell out when both parties couldn't come to terms on his paycheck. Now, with filming set to begin next month, Abrams is setting up Skype auditions to find a replacement, and Variety reports that actor Edgar Ramirez is the front-runner. You may know Ramirez best from the the epic-length crime saga Carlos, or perhaps his striking awards show appearances while supporting that project. Well, if need be, he can always pull off the Khan cleavage ...