What Kind of Antihero Does the Boardwalk Empire Finale Make Nucky?
Is he just another bad guy now?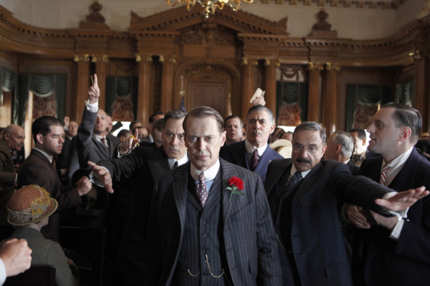 [Spoiler alert.] On last night's Boardwalk Empire, Steve Buscemi's Nucky Thompson, who has spent two seasons being just a little more reasonable, calm, and fair-minded than mob bosses usually are, finally broke bad. Having been betrayed all season by his former protégé Jimmy Darmody, whom he helped raise, Nucky could not just accept Jimmy's apology for a season-long turf war. Instead, Nucky shot Jimmy himself. As Terence Winter, Boardwalk's creator, pointed out, Jimmy was the character who told Nucky, all the way back in the series' first episode, that "You can't be half a gangster," and 24 episodes later, Nucky finally took his advice. But where does this leave Nucky? Winter says it has always been his intention to have Nucky "cross the line from being half a gangster into being a full gangster": Is he all the way there now? Where do Nucky's actions put him in the pantheon of TV antiheroes? Closer to the seriously psychotic side of the spectrum with Tony Soprano and Walter White, or to decent men who do bad things, like Don Draper and Stringer Bell? Is Nucky actually a family man at heart, like Vic Mackey, or were his seemingly heartfelt words when proposing to Margaret purely a manipulative way to stay out of prison and get his profitable deed back? And what do you think next season will be like, with Nucky, who's had to share the series for its whole run, finally getting the show to himself?