Chinese Government Says Christian Bale 'Should Be Embarrassed'
Batman vs. Chinese police, take two.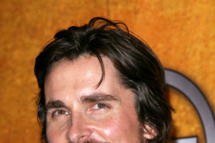 A spokesman for the Chinese government said that Christian Bale "should be embarrassed" by last week's scuffle with police, whom Bale clashed with while trying to visit a blind lawyer under dubious house arrest who's become a symbol of Chinese government oppression. "If anyone should be embarrassed it's the relevant actor, not the Chinese side," the spokesman said, according to Reuters. "What I understand is that the actor was invited by the director Zhang Yimou to attend the movie premiere. He was not invited to any village in Shandong to create news or make a film," he said. "If he wants to create news, I don't think that would be welcomed by China." Maybe not, but at least it's diverting attention from how underwhelming The Flowers of War is.