Chris Pratt in Talks for Kathryn Bigelow Movie
The <em>Parks and Rec</em> star would play the lead role in Bigelow's <em>Kill Bin Laden</em>.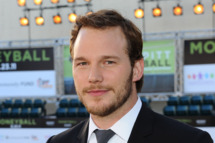 Standout Parks and Recreation funnyman Chris Pratt went dramatic this year for a supporting role in Moneyball, but he may be about to take on something much, much bigger: the lead in Kathryn Bigelow's highly anticipated follow-up to The Hurt Locker. Twitch reports that Pratt is in talks to topline the movie formerly known as Kill Bin Laden, where he'd play one of the military men responsible for taking out the infamous Al Qaeda leader. (It's a role that formerly had up-and-comer Joel Edgerton attached, before he had to drop out owing to scheduling issues.) April Ludgate would be so proud of him! Although you wouldn't be able to tell.