David E. Kelley and Sanjay Gupta Do Medical Drama
The brain surgeon and Mr. <em>Boston Legal</em> are doing a show for TNT.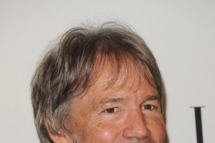 It's been seventeen years since Chicago Hope, but now that David E. Kelley has swapped Mandy Patinkin with an actual neurosurgeon, it seems he's finally ready to return to the medical genre. TNT is making a pilot for Chelsea General, a hospital drama written by Kelley that's based on Monday Mornings, the upcoming novel by CNN chief medical correspondent Dr. Sanjay Gupta. The series, Kelley's first for cable, will focus on five surgeons and their struggles, both at work and at home. Given Dr. Gupta's expertise and Kelley's talent for writing and casting, the show seems promising, both for viewers and for William Shatner's return to television.