Eva Green to Lead 300 Sequel
Which still doesn't have a male lead.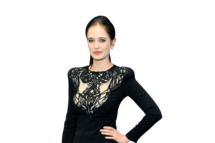 Casino Royale's Eva Green may board another testosterone-soaked sequel, according to THR: She's in negotiations to play the female lead in 300: Battle of Artemisia. The sequel to Zack Snyder's 2006 blockbuster would cast Green as gold-covered goddess Artemisia, who prods the villainous Xerxes and his men into battle against an outmatched Greek army. Next up for director Noam Murro is finding an actor to lead those Greeks, since talks last month with Joel Edgerton came to naught. Hollywood's sixpack-possessors, heed his casting call!