Is Extremely Loud and Incredibly Close Too Divisive to Win an Oscar?
Or is it just divisive enough?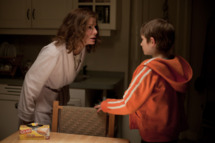 Extremely Loud and Incredibly Close has elicited pretty polarized reactions from audiences and critics, some of whom adore its emotional vibrancy, and some of whom find the film cloying. A Golden Globe voter tells the New York Times that the HFPA voting pool was very split on the 9/11 drama, which is why despite the movie's pedigree it didn't garner any nominations. But the opposite could be true for the Oscars, where a complicated new balloting process weighs first-place votes far more heavily than any other ranking — so a few passionate voters who put the movie at the top of their lists have more sway than several moderately positive voters who put it somewhere in the middle. Plus, as the Times points out, "grief ... can be catnip for Academy voters." And boy, if you're looking for grief, look no further than Extremely Loud and Incredibly Close.