Fabolous Has Some Suggestions for Words With Friends
Do not make him wait for his Words With Friends turn.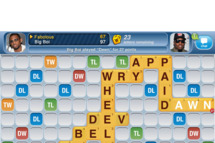 In addition to being very successful rappers, Big Boi and Fabolous are two of the Scrabble app's most high-profile enthusiasts. (Alec Baldwin, who got kicked off a plane for refusing to turn his phone off mid-game, also belongs to that club.) Former Vulture comrade Amos Barshad caught up with the duo to discuss their Words With Friends habits, and predictably, the results are gold. Some highlights: Big Boi thinks he plays "a lot of professors and schoolteachers"; both guys frown upon the use of cheat apps (Big Boi: "What's the whole purpose of doing that shit? You don't know your real skill level. You beat me? Nah, motherfucka, the computer beat me"); and Scrabulous, the Facebook equivalent of Words With Friends, is not something that either rapper messes with. Also, at one point Fabolous just starts rattling off some improvements for the game. "One thing they gotta fix is that if someone be taking days to make they move, you should be able to resign motherfuckers. Like, they be taking days to make a move." Do not make Fabolous wait for his Words With Friends turn, okay?