Fandango Names Santa Claus Conquers the Martians the Worst Christmas Movie of All Time
Avoid <em>Santa Claus Conquers the Martians</em> this Christmas. Or maybe not.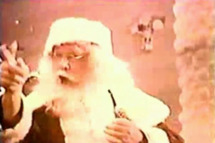 Even those who absolutely love holiday movies can admit that they're not all good. With this in mind, movie-ticket website Fandango asked its users to vote for the worst Christmas movie of all time. The winner? The 1964 B-movie Santa Claus Conquers the Martians, beating out such illustrious competition as Santa With Muscles, Ernest Saves Christmas, and Home Alone 3 (the one without Macaulay). Far be it from us to call the judgement of Fandango users into question, but we don't really buy their choice. A movie with cardboard robots, Santa setting up shop on Mars, and the legendary "Battle of Toys"? Sounds pretty awesome to us. We'd gladly watch that on Christmas morning. Skeptical? Just check out the trailer.