Fox's Midseason Schedule Gives Touch an Early Push
The Kiefer Sutherland series will premiere after <em>Idol</em> in January, but only begin airing weekly in March.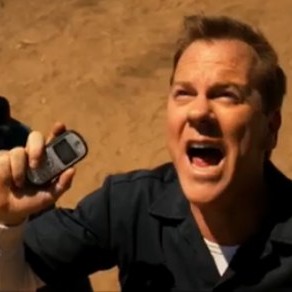 Fox is planning an unusual launch for its new Kiefer Sutherland drama, Touch. The network today said the series will get a sneak preview after American Idol on January 25, but won't actually begin airing as a weekly series until March 19, when it will run Mondays at 9 p.m. after House. Previewing new shows behind big hits is nothing new, but normally episodes settle into the regular time slot the next week. Fox seems to be attempting a modified version of its Glee launch strategy: That show bowed after Idol in May but didn't return as a series until the fall, giving Fox all summer long to promote it. In the case of Touch, Fox will get two months to expose fans after its post-Idol debut. HBO is trying something similar with its new drama Luck, which will air its pilot later this month after the Boardwalk Empire finale and then begin a weekly run in January. So what else is Fox planning for midseason?
Lots of American Idol, of course. The music competition will premiere earlier than planned, returning Wednesday, January 18 with a two-hour episode. The Thursday edition bows as an hour-long episode January 19, followed by a one-time-only Sunday edition on January 22, following the NFC championship game. The network had previously planned to premiere Idol after the football match-up, but apparently decided to get going even earlier. January will also see the arrival of J.J. Abrams' Alcatraz, which gets a two-hour debut on January 16 before settling into its regular 9 p.m. Monday slot the next week. Bones spinoff The Finder, meanwhile, debuts Thursday, January 12. Fox is also tweaking its Sunday animation lineup next month, with Napoleon Dynamite replacing the wretched Allen Gregory at 8:30 p.m. starting January 15. There will also be some Mobbed specials, with the Howie Mandel reality show popping up on January 4 and 11, and February 1 and 8. As for spring, Glee will take a break after its February winter finale, replaced by repeats of New Girl and returning comedy Breaking In Tuesdays from 8 to 9 p.m. beginning March 6. Glee should return sometime in April. Finally, Bob's Burgers will also be back in the spring: It replaces Dynamite in the post-The Simpsons slot on March 11.