Gossip Girl Recap Recap: Another Overly Dramatic Midseason Finale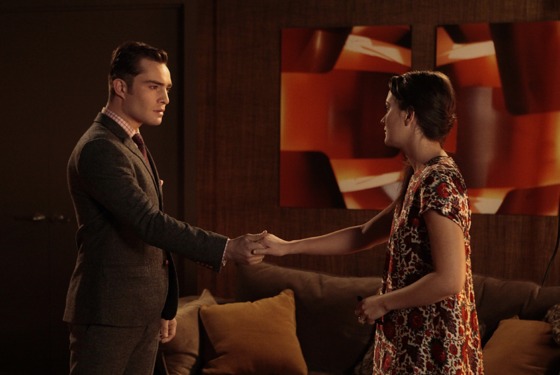 This week's mid-eason finale of Gossip Girl certainly created a bang. Commenters were delighted to say good-bye to Ivy and welcome Jack Bass back, but bemoaned the fact that Chuck and Blair's latest limo ride did not involve a, uh, happy ending. Commenters were also tickled to see Serena choose some terrible outfits (are leather shorts really acceptable breakfastwear?) and make even worse choices in men. Blair is snobby, pretentious, and judgmental, but let's face it: She has fantastic one-liners and her repartee with Dan lit up the show. And Lily's chat with Chuck certainly drew some attention, mostly for her ability to keep a straight face while claiming a mother's love is unconditional. Much of this week's episode focused on Nate showing New York the strength of his new position and plotting to take down Gossip Girl … but this is Nate: Implausibility bell, consider yourself rung. On to this week's recap of the recap.
Realer Than a Bad Taste Homage to Princess Diana
• "Rufus explains that he considered sedating Dan before Derena's first date. Plus 4 - he's always had Real Housewife potential." —PurpleandGreen

• "Blair: 'Why did you tell me to choose Louis?'
Chuck: 'I thought it would be selfish to tell you to break up your family.'
Blair: 'THAT was the moment you decided to not be selfish?!'
Chuck: 'Timing has never been our strong suit.'
PLUS 20!!! No truer words have been spoken." —SchemingWithScones

• "Serena ponders her romantic failures as the camera peers over her shoulder, catching her completely transparent blouse and prominently displayed bra. +5 for reminding us that S's bad taste extends further than her choice in men." —HOOKEDONBASS

• "Nate runs up to the car that his friends are in that just crashed......and just stands there. Doors, how do they work? Plus 10." —Ophelia1999

• "Blair claims her fingers are swollen because of her pregnancy. Oh, so THAT'S where she's carrying this baby—in her hands. Plus 2." —brandie_larue

• "Lily had a straight face when she told Chuck that unconditional love isn't a fairytale or outdated for parents. +5 cause we all remember her putting Eric in lockdown in the hospital in season 1 and wanting to put Serena in treatment despite her protestations of innocence and when she had Serena arrested etc…" —Anunkindravenbass

• "'That man had a lot of problems.' 'No wonder Serena was so into him.' –Dan. Plus 100. Finally, someone is saying what we're thinking." —LDCLUNA

• "Jack Bass. Plus 100." —brooklyn_for_life

• "His bathroom is not the only place Dan should erase his existence from. Plus 10." —STILETTO33

• "'You two have this strange force field effect in each other, physicists should study it' +100 for Dan summarizing 5 seasons of Chuck & Blair." —JJovana3

•" 'Take this polyester rag off my face right now, Humphrey! And who doesn't keep a silk blindfold in their bedside table?' +10 for Blair's simultaneous snobbery, mocking of Dan, and references to her sex games with Chuck." —Freckles929

• "Opening scene of the van der Humphrey family enjoying a simple breakfast of waffles and champagne. +5." —Muletta

• "Nate cancels on Bloomberg to show his awesome power. I look forward to Blair one day ditching lunch with the Duchess of Cambridge and the ghost of Jackie O. +20." —SPENDS2MUCH

• "+20 For Blair saying Dan smelled like onions. I always wondered what a mix of arrogance, self-absorbed, and pretentious smelled like." —MEG24

• "The writers managed to make Nate run a newspaper and still the dumbest person on the show. +15 for at least one consistency." —THEREALME

• "+50 for Chuck being 'almost' aroused at Nate finally growing a backbone. Ruffle up those manbangs a little, and we'll bump it up to a 'fully.'" —ALLIEC

Faker Than Lily's Parenting Skills
• "There's more flannel in Dan's wardrobe than at a Mumford and Sons concert. Minus 10 ." —Opheliaviolet

• "Minus 100 for that awkward moment when their best friends are DYING in hospital beds, and Nate, Serena, and Dan start to form a plan...to take down Gossip Girl? Weirdest scene ever." —UESiderz

• "Are we ever going to find out why there's a picture of a young Diana and/or who's/where's the real Charlie Rhodes?" —2 –AMALA83

• "Serena trying to figure out where it all went wrong while drinking champagne at breakfast with her parents while wearing what seems to be an outfit fit for a prostitute. What were those leather shorts?!" —20–FANCYONLIFE

• "Bass men and cars are a bad combination for anything besides limo sex. Shouldn't Chuck know this by now? I bet Uncle Jack gets his hot piece of dastardly ass helicoptered everywhere. Minus 10." —feed_the_ducks

• "Let me just make sure I'm clear on Max's character arc, here.
Step 1: Making (or just plating) frou-frou little pastries in an LA diner.
Step 2: Moves to Portland like a hipster because he & ChIvey are failing at their respective careers.
Step 3: Somehow gets an interview at one of Daniel Boulud's restaurants (don't remember if it was Café Boulud or DB Bistro) and blows him away?
Step 4: Turns down a job for - and it bears repeating - Daniel Boulud because his ex who viciously cut ties tells him she wants to move back to Portland with him.
Step 5: Tries to bring down said ex's house of lies without ever actually Googling her, which, given that she was an aspiring actress and would definitely have a web presence, would have solved the entire problem.
Step 6: Becomes an assassin for hire, familiar with auto-sabotage, and catering to spineless Congressmen.
Step 7: Profit...?
This is what we're going with? Really? Minus at least 50 because I like my sociopaths fun and named either Georgina or Jack Bass." —TrumpetStrumpet

• "Someone should have gotten a restraining order against Max by now. He is EVERYWHERE all the time. Minus 3." —EMMYLOSER

• "The thought that we may eventually get a scene between him and Chuck a la Darth 'Luke I am your father' Vader? A pre-emptive." —500 –BASSISBOSS

• "Minus 10 for finally reuniting Chuck and Blair in a limo but instead giving their screen time away to Nate who, let's be honest, wouldn't have noticed they weren't at the airport unless the driver spelled it out for him." —MACAROONSANDSCOTCH

• "-20 For teasing me with the thought of a Gossip Girl spin off 'Chuck and Blair do Tokyo' and then killing off Chuck. Damn." —PeoniesandMacarons

• "Blair is signing for take-out, with Dorota standing right there?! -3" –HARLOWBLAIR

• "Dan says it could get awkward at dinner parties because Chuck has slept with the whole UES. Blair's response? 'Or fun. Don't Judge.' Why did we not see more of these Chuck/Blair games during Season 3? -5. And -5 more because Blair should have known that judging is what Dan does best." —CHUCKISMYPUPPY

• "Max stomps into the NY spectator and tells Nate he needs to listen to him about Charlie. Nate doesn't. End scene. Minus 5 for making me watch that." —hatinontheclub
Photo: Giovanni Rufino/© 2011 THE CW Network, LLC. All Rights Reserved.