Grimm Is TV's Most 'Engaging' Show, According to Nielsen
They mean "easy to remember," but okay.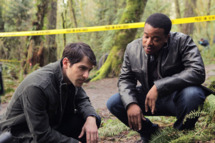 Grimm is TV's most "engaging" show, according to a report from Nielsen. "Engaging" here is not a measure of storytelling or narrative dexterity but rather of audience recall: It measures what percentage of people remember what they watched. Apparently, people remember what they saw on Grimm! (And presumably the commercials and network promos that aired during it, too, which is what advertisers would care about.) Suburgatory, Desperate Housewives, Parenthood, and Royal Pains rounded out the top five for engagement, which might say less about the content of the shows and more that their audiences consist of unusually alert people. The Nielsen report also says that the year's most time-shifted show was American Horror Story: 95.3 percent more viewers saw it on DVR than live, which makes it easier to go through frame by frame, per Ryan Murphy's request.