Guy Ritchie Is the New Man for U.N.C.L.E.
He'll replace Steven Soderbergh.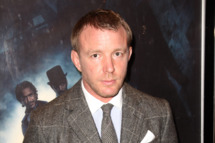 It hasn't been any easy path to the screen for The Man From U.N.C.L.E., WB's attempt to reboot its sixties spy series as a movie franchise. For quite a while, Steven Soderbergh was committed to directing George Clooney in the film, but when Clooney fell out, Soderbergh's passion for the project waned and he jumped ship to Summit to make the psychological thriller The Bitter Pill instead. Still, U.N.C.L.E. remains a priority for WB, and Deadline reports that the studio is negotiating with Guy Ritchie to replace Soderbergh in the director's chair. Let's hope he can make some headway with the project, if only so The Man From U.N.C.L.E. can make a nice little nuclear family with The Woman in Black and The Girl With the Dragon Tattoo.