Harrison Ford to Play Ender's Game
Abigail Breslin is onboard, too.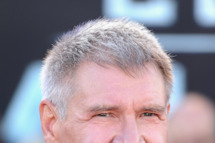 The all-kid cast of sci-fi tentpole Ender's Game just added a sexagenarian: Harrison Ford. Variety reports that after weeks of courting, Gavin Hood has landed Ford to play Colonel Hyram Graff, who trains brilliant young Ender (Hugo's Asa Butterfield) at a futuristic military academy. Also added to the adaptation of Orson Scott Card's classic novel is Abigail Breslin as Ender's sister Valentine; she'll join fellow teen Oscar nominee Hailee Steinfeld, who plays his classmate Petra, as well as Let Me In's Jimmy "Jax" Pinchak as Ender's older brother.