Hell on Wheels Earns Second Season
The AMC Western series will continue.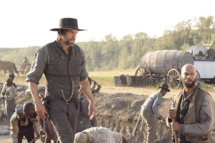 AMC's Western series Hell on Wheels took off like a shot when it first premiered in November, drawing the second-biggest ratings debut in AMC history. That figure was helped by lead-in phenom The Walking Dead, though, and after Dead closed up shop at midseason, Hell fell off, attracting less than half of its original audience. Still, AMC has decided to give the Anson Mount–Common drama a vote of confidence, and the network announced today that it has officially picked up Hell for a second season. Perhaps that good news will help boost Hell as it heads into its home stretch: The first season finale airs January 15.