James Murphy Is an Actor Now
In a Sundance movie, no less.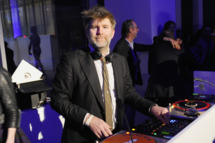 And not in just your run-of-the-mill "Snoop shows up to smoke a blunt" musician cameo. The former LCD front man has a featured supporting role in a Sundance-accepted movie. Even better: It's The Comedy, a Tim Heidecker vehicle about a dude who "whiles away his days with a group of aging Brooklyn hipsters, engaging in acts of recreational cruelty and pacified boredom." Murphy, as you might hope, is a member of his hipster entourage. (Hopefully, he's the one who makes jokes about not knowing how to live in a post-LCD world. The joke is right there; take it!) Anyway, as far as non-musical Murphy-related ventures go, this sounds pretty great. Welcome back-ish, James Murphy!