Jersey Shore Casting Agent Hoping to Make Geek Jersey Shore
"If you are a guy or girl and get all the references in <em>The Big Bang Theory,</em>" someone wants to give you a reality show!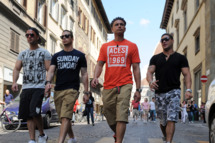 Do you remember when Jersey Shore hit it big and it spawned many copycats? Jersey Shore for Massholes, Jersey Shore on Brighton Beach, Jersey Shore for Persians, and on and on? Few of those shows ever came to be, but that hasn't stopped reality-TV producers from trying to find the next, heretofore unmined, reality-ready subculture. Thus, the company that cast Jersey Shore just put out a call for fanboys (and girls). "Seeking: Eight strangers for a mission," goes the listing, "To explore strange new worlds, to seek out new lifestyles and relationships, to boldly go where no fanboy or fangirl has gone before." The ad then elaborates, "If you are a guy or girl and get all the references in The Big Bang Theory, can quote the Original Trilogy, can spot a Cylon among us, wish you could've attended Hogwarts, Starfleet Academy, or Xavier's School for the Gifted, join the horde, and revere masters of science fiction and fantasy we want you!!! We're looking for those who value brains over brawn, substance over status quo and march to the beat of their own cantina band." The ad assumes that the rest can go without saying, and so does not include the follow-up sentence, preferring to leave it strongly implied: "But who still desperately want to be famous and are willing to get drunk and have sex on camera (preferably while wearing Hobbit pajamas)."