List Watch: Can M83 Upset Adele for Best Song of 2011?
Pitchfork thinks yes.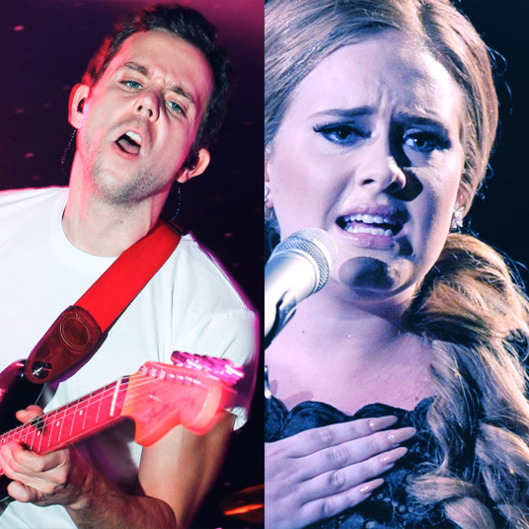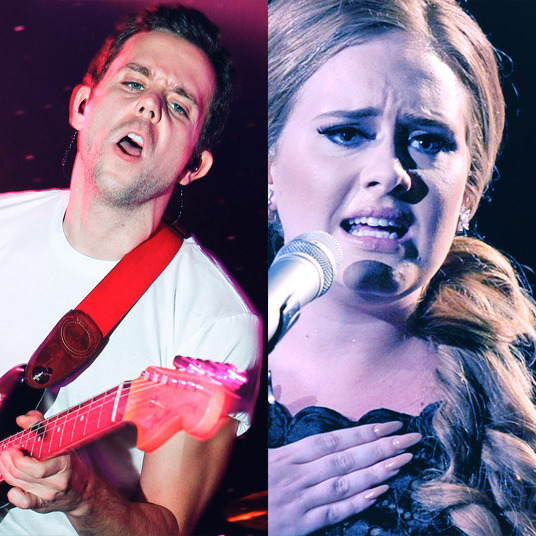 As New York's Nitsuh Abebe put it in the magazine's Year in Culture, "Everyone loves Adele," and the first wave of "Best Songs of 2011" lists suggested that "Rolling in the Deep" would go home with both the Song of Summer and Song of the Year titles. But today, Pitchfork unveiled the top 50 tracks from its Best of 2011 list, and as you can probably guess from the above headline, the no. 1 spot went to M83's sax-jam "Midnight City." This is maybe not so surprising from the indie-inclined site, but at this point in the End of the Year List Game — December 13 already! — it's a big win for M83, who also picked up top honors from Stereogum yesterday. Could this late surge from "Midnight City" be enough to topple Adele? Will the Victoria's Secret song take home the Best Song List trophy? (Vulture is guessing no — Adele seems fairly unstoppable — but we will keep you posted all the same.) Study the various Best Of lists below, and make your bets.
Pitchfork's Top Ten Tracks of 2011 (Adele's "Rolling in the Deep" was no. 23):
10. DJ Khaled – "I'm On One" (Feat. Drake, Rick Ross, and Lil Wayne)
9. Azealia Banks – "212"
8. Cass McCombs – "County Line"
7. Beyoncé – "Countdown"
6. Destroyer – "Kaputt"
5. Real Estate – "It's Real"
4. Nicki Minaj – "Super Bass"
3. EMA – "California"
2. Bon Iver – "Holocene"
1. M83 – "Midnight City"
Stereogum's Top Ten Tracks of 2011 (user-voted):
10. Radiohead – "Lotus Flower"
9. James Blake – "The Wilhelm Scream"
8. Tyler, the Creator – " Yonkers"
7. Adele – "Someone Like You
6. Girls – "Vomit"
5. St. Vincent – "Cruel"
4. Lana Del Rey – "Video Games"
3. Fleet Foxes – "Helplessness Blues"
2. Bon Iver – "Holocene"
1. M83 – "Midnight City"
Spin's Top 10 Songs of 2011 (M83's "Midnight City" was #12):
10. TV on the Radio, "You"
9. HyunA, "Bubble Pop!"
8. Lykke Li, " Get Some"
7. Clams Casino, "I'm God"
6. Tyler, the Creator, "Yonkers"
5. Frank Ocean, "Novacane"
4. The Rapture, "How Deep Is Your Love"
3. EMA, "California"
2. Beyoncé, "Countdown"
1. Adele, "Rolling in the Deep
Rolling Stone's Top 10 Singles of 2011:
10. The Decemberists – "Don't Carry It All"
9. Lil Wayne – "Six Foot Seven Foot" (Feat. Cory Gunz)
8. Beyoncé – "Countdown"
7. Lady Gaga – "Edge Of Glory"
6. Radiohead – "Lotus Flower"
5. Paul Simon – "Rewrite"
4. Foo Fighters – "These Days"
3. Britney Spears – "Till The World Ends"
2. Jay-Z & Kanye West – "Niggas In Paris"
1. Adele – "Rolling In The Deep"
10. Britney Spears – "Till the World Ends"
9. Beyoncé – "Love on Top"
8. Nickelback – "Bottoms Up"
7. Bright Eyes – "The Ladder Song"
6. Drake – "Take Care"
5. Florence and the Machine – "Shake It Out"
4. Lady Gaga – "Heavy Metal Lover"
3. Jay-Z and Kanye West – "N---as in Paris"
2. Girls – "Vomit"
1. Adele –"Rolling in the Deep"
Paste Magazine's Top Ten Songs of 2011:
10. Bon Iver – "Calgary
9. Cults – "Go Outside"
8. Wilco – "Art of Almost"
7. Tom Waits – "Bad As Me"
6. Generationals – "Ten-Twenty-Ten"
5. Phantogram – "Don't Move"
4. tUnE-yArDs – "Power"
3. Typhoon – "The Honest Truth"
2. M83 – "Midnight City"
1. Fleet Foxes – "Helplessness Blues"