Matisyahu Shaved His Beard
The Orthodox rapper is no longer Orthodox.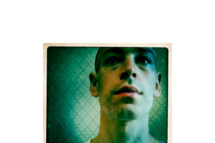 Matisyahu, the Hasidic rapper, is no longer a Hasid. On his Twitter account last night he posted pictures of himself all clean-shaven (Hasidic Jews don't shave their beards) and released a statement that said in part, "No more Chassidic reggae superstar. Sorry folks, all you get is me … no alias. When I started becoming religious 10 years ago it was a very natural and organic process ... At a certain point I felt the need to submit to a higher level of religiosity ... I felt that in order to become a good person I needed rules — lots of them — or else I would somehow fall apart. I am reclaiming myself. Trusting my goodness and my divine mission. Get ready for an amazing year filled with music of rebirth. And for those concerned with my naked face, don't worry … you haven't seen the last of my facial hair." Despite the clipping shears, Matisyahu does not seem to have forsaken Judaism completely: This afternoon he followed up with a tweet that said, "For all those who are confused: today I went to the Mikva [ritual bath] and Shul [synagogue] just like yesterday." Phew! Your bubbe won't have to get mad.