Michael Bay's Pain Attracts Dwayne Johnson, Mark Wahlberg
They're the director's top picks for his weightlifting crime caper.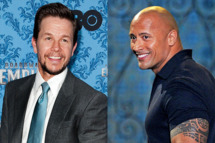 Michael Bay has long hoped to make his so-called "smaller" movie, Pain and Gain — about two Florida bodybuilders who get caught up in crime — and fortunately, Hollywood's superhero boom has produced a recent surplus of male stars with bodybuilder-worthy biceps. Still, Bay may stick with two old-school gym rats for the lead roles: Variety reports that the director has set his sights on Dwayne Johnson and Mark Wahlberg, though neither has officially signed on to the project yet. Still, we're hopeful; it would be fun to shout "The Rock" at Bay and Johnson and watch both their heads turn in recognition, don't you think?