Michael Jackson's Furniture Fetches Top Dollar
Furnishings used, but not owned, by the King of Pop go for enormous sums at auction.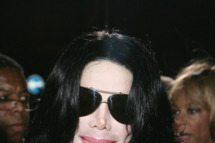 Proving that he remains just as popular in death as he was in life, over 500 items that furnished the mansion that Michael Jackson and his children were living in at the time of his death sold at an auction held by Julien's Auctions this weekend. The furnishings, which were used, but not owned, by the King of Pop, include a chalkboard with a message from one of his children, a Victorian-revival-style armoire, and an Oriental rug. As with everything involving Jackson these days, many pieces on the auction block reeked of the macabre. Some of the items that garnered the highest bids? Those that featured prominently in the crime-scene photos. And just in case potential buyers forgot where they recognized that certain bedside table from, Julien's saw fit to re-create Jackson's bedroom for the auction, though they chose to honor his mother's wishes and not include the bed he died in as an item for bidding.