NBC Planning 90-Minute Betty White Birthday Special
Followed by sneak preview of <em>Off Their Rockers</em>.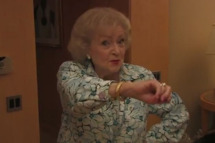 NBC has blocked off the two-hour slot from 8 p.m. to 10 p.m. on January 16 for Betty White's 90th Birthday: A Tribute to America's Golden Girl (a 90-minute live-taped special) followed by a preview of White's hidden-camera show Off Their Rockers. We're looking forward to lots of pretend incontinence and fake-terrified grannies in runaway wheelchairs, freaking the living daylights out of those darned young'uns.