The New Sleigh Bells Single Is Here!
Check out "Born to Lose."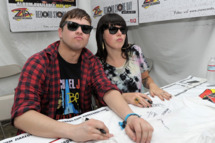 If you are not a resident of Florida, and you were feeling a little bummed about the disproportionate amount of attention that Sleigh Bells will be paying that particular member of the union, then chin up: The band just dropped a new song, and it is playable in all 50 states. "Born to Lose," the lead single off their upcoming Reign of Terror, has a cleaner sound than you'd maybe expect from the duo, and there are moments — like the plodding guitar bit in the middle, or the strummy denouement — that pose no danger to the health of your headphones (or eardrums). But it's still a clattering, chant-y effort that will come in handy the next time you need to jump up and down insistently for four minutes or so. If that time is now, then get at it.