New Year's Eve Opens to Weakest Box Office Since September 2008
Guess all those fancy name actors don't guarantee a hit.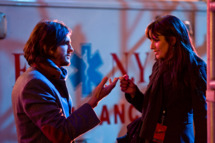 Celebrity actor menagerie New Year's Eve opened in what is proving to be the lowest grossing weekend in three years. Its total take of just under $14 million is about $6 million below studio Warner Bros.' expectations, reports Deadline. Those are some pretty bad numbers for the season's only (trying too hard) rom-com, which even earned itself a spoof on last night's Saturday Night Live.