Nicki Minaj Very Excited About Kissing Madonna
Maybe the Super Bowl halftime show won't be so boring after all.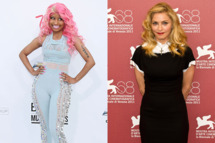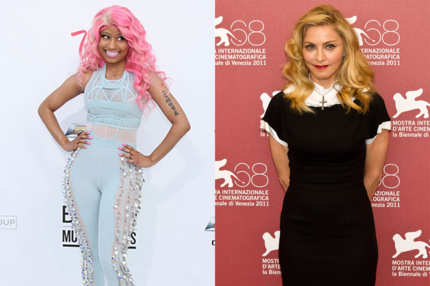 Nicki Minaj had an exciting day yesterday, according to her exclamation-point-heavy tweets. (To be fair, Minaj herself is often a human exclamation point.) Not only was she filming Madonna's video for "Give Me All Your Love," but she got an apparently very thrilling smooch from Madonna herself. "OH MY f'ingggg Gahhhh!!!!! MADONNA jus kissed me!!!!! On the lips!!!!!!! It felt sooooo good. Soooo soft!!!! *passes out* aaahhhhh!!!!!!!!!" Minaj tweeted. She offered to kiss each of her followers "so they too can taste queen madonna," and gushed that the kiss "felt soooooooooo good!!!!!!!" Minaj says the kiss was a surprise, but that it was "more romantic" than Madonna's previous famous attention-grabbing kiss with Britney Spears. Man, remember when that seemed like a big deal?