Oscar Futures: Is This Finally Meryl Streep's Year?
She had a big awards season week, but will it be enough to push her to Oscar gold?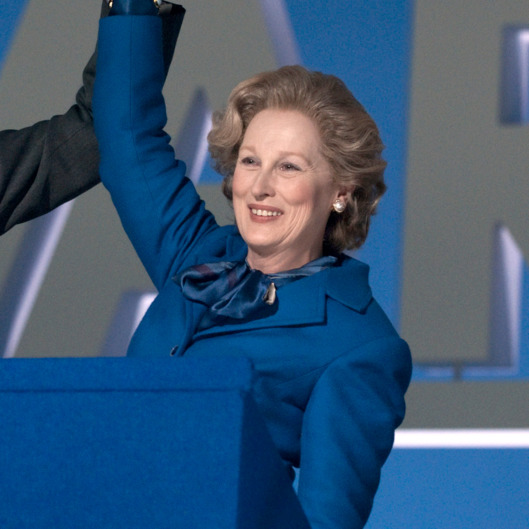 Every week between now and January 24, when the nominations are announced, movies and stars will help themselves — or sometimes, hurt themselves — in the Oscar race. Vulture's Oscar Futures will listen for insider gossip, comb the blogs, and out-and-out guess when necessary to track who's up, who's down, and who's currently leading the race for a coveted nomination.
Best Picture
UP: War Horse. A promising box office start and a renewed interest from the Oscar punditry push War Horse back into contention. The eyes have it!
DOWN: The Iron Lady. Aside from our David Edelstein, reviews have been so-so, and there's a reluctance inside the Academy membership to embrace a biopic about a union-busting conservative leader.
CURRENT PREDIX: The Artist; The Descendants; The Help; Hugo; Midnight in Paris; Moneyball; War Horse
Best Director
UP: Steven Spielberg (War Horse). Things are looking up for the Horse helmer, but we'll know more next week if it's among the five nominees of the Producer's Guild.
DOWN: David Fincher (The Girl With the Dragon Tattoo). With box office simply solid instead of superlative, pundits wrote a raft of "what went wrong" stories this week.
CURRENT PREDIX: Woody Allen (Midnight in Paris); Michel Hazanavicius (The Artist); Alexander Payne (The Descendants); Martin Scorsese (Hugo); Steven Spielberg (War Horse)
Best Actor
UP: Gary Oldman (Tinker Tailor Soldier Spy). The Arclight Hollywood just announced a six-film Oldman retrospective in January, and he's about to be honored at the Palm Springs Film Festival.
DOWN: Michael Shannon (Take Shelter). Putting together this list of Oscar dark horses made us sad. Shannon oughta be a contender! Can he get himself a high-profile celebrity backer, like Javier Bardem had with Julia Roberts last year?
CURRENT PREDIX: George Clooney (The Descendants); Leonardo DiCaprio (J. Edgar); Jean Dujardin (The Artist); Michael Fassbender (Shame); Brad Pitt (Moneyball)
Best Actress
UP: Meryl Streep (The Iron Lady). The movie isn't getting rave reviews aside past its lead performance, but Streep herself was practically deified at this week's Kennedy Center Honors.
DOWN: Michelle Williams (My Week With Marilyn). Marilyn more than doubled its screen count this past weekend, but over the three-day, it actually earned less than it had the previous week. Will Harvey Weinstein keep the movie propped up for the next two months, or will he move on to Meryl?
CURRENT PREDIX: Glenn Close (Albert Nobbs); Viola Davis (The Help); Meryl Streep (The Iron Lady); Tilda Swinton (We Need to Talk About Kevin); Michelle Williams (My Week With Marilyn)
Best Supporting Actor
UP: Armie Hammer (J. Edgar). Scott Feinberg notes that Warner Bros is taking Hammer seriously after his surprise SAG nod, pushing him out on the awards circuit for a new wave of press.
DOWN: Max von Sydow (Extremely Loud and Incredibly Close). The movie isn't supposed to go wide until January 20, a mere four days before the Oscar nominations are announced. They may want to consider an earlier expansion if they want dark horse von Sydow to even make the shortlist.
CURRENT PREDIX: Kenneth Branagh (My Week With Marilyn); Albert Brooks (Drive); Jonah Hill (Moneyball); Nick Nolte (Warrior); Christopher Plummer (Beginners)
Best Supporting Actress
UP: Jessica Chastain (The Help). The surging Chastain will also be honored at the Palm Springs Film Festival, it was announced this week.
DOWN: Berenice Bejo (The Artist) Now that The Artist has expanded into theaters beyond the safe zones of New York and Los Angeles, box office isn't as strong as the Weinsteins surely hoped.
CURRENT PREDIX: Berenice Bejo (The Artist); Jessica Chastain (The Help); Melissa McCarthy (Bridesmaids); Janet McTeer (Albert Nobbs); Octavia Spencer (The Help)