Which Oscar-Bait Movies Are Overrated and Underrated?
Were you left cold by <em>The Artist</em> or <em>The Descendants</em>?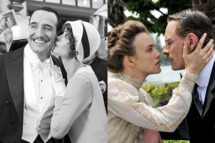 There are a couple of big movies still to come out, but for now, it looks like we've got a good grip on all of the 2011 Oscar contenders: Films like The Artist and The Descendants are vying for Best Picture, while actors such as Viola Davis, Meryl Streep, Jean Dujardin, Brad Pitt, and Christopher Plummer are in the mix for their strong performances. But when it comes to the movies getting year-end kudos, have some of the front-runners left you cold? And which contenders deserve more buzz? Vulture's already weighed in with our picks for Most Overrated (My Week With Marilyn) and Most Underrated (Keira Knightley in A Dangerous Method), but now it's your turn to remake the Oscar odds as you see fit.