Paul Scheer, Rob Huebel Will Host the Critics Choice Awards
Almost a <em>Human Giant</em> reunion ...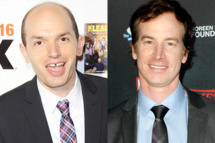 Rob Huebel and Paul Scheer will host the Critics Choice Awards on VH1 in January, the network announced today, after the show went host-less last year. Maybe Aziz Ansari will join them for a brief Human Giant reunion? Ah, a girl can dream. The Critics Choice Awards, given out by the Broadcast Film Critics Association, claims to be the "most accurate predictor" of future Oscar winners, so you'll be able to sweep your Oscar pool and enjoy an evening of comedy stylings by two of Adult Swim's shiningest stars.