Phil Spector Taking Appeal to the Supreme Court
Insert wig joke here.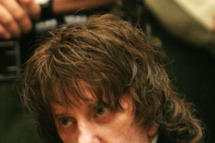 When Phil Spector, the legendary "wall of sound" record producer, was convicted in 2009 for the murder of actress Lana Clarkson, his guilt was left largely unquestioned. After all, while Spector produced everyone from the Beatles to the Ramones, he threatened both of those bands with firearms. Now Spector's attorney, Dennis Riordan, claims that the judge who presided over the Clarkson murder trial "violated [Spector's] constitutional rights" by "providing his opinion on expert testimony," thus acting as a prosecution witness. The appeal has already been rejected by other appellate courts and the California Supreme Court, leaving the highest court in the land as Spector's last option. Given how unlikely it is that the U.S. Supreme Court will hear his appeal, Spector will probably remain behind many walls of concrete for the rest of his nineteen-to-life sentence.