Questlove Had a Pretty Good Dis Song for Katie Holmes, Too
But now he has to clear his tunes with three different NBC execs.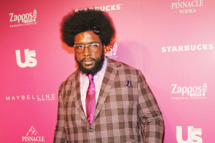 Questlove got in hot water with NBC for playing Fishbone's "Lyin' Ass Bitch" as the walk-on song for Michele Bachmann's appearance on Late Night with Jimmy Fallon, but the Roots bandleader told Rolling Stone that his musical plans were thwarted once before, when Fallon vetoed his attempt to play "She Blinded Me With Science" as Katie Holmes walked out. "That would have been good," Questlove laughed. Elsewhere in the Rolling Stone profile, Questlove gets invited to a party at Alison Brie's house (by her Community co-star Donald Glover) and almost declines due to his overwhelming crush on the actress, though he then joins her that night in an impromptu party jam session. "The last thing I expected to do was wind up in a jamboree singalong trying not to pine over somebody," Questlove said afterwards. "Strange night." How do we make this unlikely power couple happen?