Rachel McAdams, Noomi Rapace Into De Palma's Passion
They're joining Brian De Palma's remake of the French film <em>Love Crime</em>.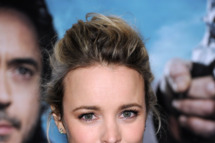 Brian De Palma is getting back to doing what he does best: making vaguely sapphic thrillers inspired by other movies. Indiewire reports that both Rachel McAdams and Noomi Rapace are coming aboard De Palma's new project Passion, a remake of this year's French film Love Crime. That movie starred Kristin Scott Thomas and Ludivine Sagnier in the story of a ruthless businesswoman who takes (semi-erotic) advantage of her young assistant; We'd expect the dynamic to be different in De Palma's version, since nearly twenty years separated the female leads of the original film, while McAdams is little more than a year older than Rapace. Also, since this is the man who made Femme Fatale, we feel confident in predicting that McAdams and Rapace are totally going to tongue-wrestle at some point. Game on!