What Similar-Looking Actors Should Play Siblings?
Other than Dean Winters and Will Arnett?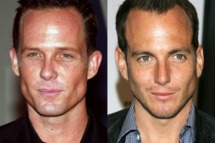 Dean Winters, a.k.a. Dennis the Beeper King from 30 Rock, has been cast as Will Arnett's brother on Up All Night, TV Guide reports. While it's a tragic missed opportunity for a Bluth reunion, it's a massive victory in the convincing casting department: Winters and Arnett could totally pass as siblings! (And it's definitely a better match than when Winters played Denis Leary's brother on Rescue Me.) Much as kid casting is an art form, so too for sibling sets. Rachel Getting Married is a high point in sister-matching, but there are other perfect sibling sets out there, too. Elizabeth Banks and Parker Posey? Amanda Seyfried along with both Dakota and Elle Fanning? Put on your casting director hat and let's hear it: Who would you cast to play siblings?