Sofia Coppola to Make Movie About Celebrity Burglars
The Burglar Bunch stole from Paris Hilton, among others.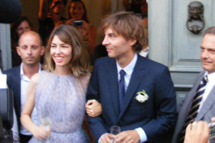 After chronicling the lives of the rich and ennui-stricken in her last few films Lost in Translation, Marie Antoinette, and Somewhere, Sofia Coppola has moved on to the young hotties who steal from them. TMZ reports that Coppola is moving forward on her next film, and it's going to be about the notorious teenage thieves known alternately as the Burglar Bunch or the Bling Ring, who broke into the houses of Paris Hilton, Lindsay Lohan, Megan Fox, and other celebrities for nearly a year between 2008 and 2009. The movie doesn't yet have a script or start date, but we're kinda into it: The repeated break-ins to Paris Hilton's never-locked house deserve to be immortalized in a big-screen comedy.