Christian Bale in Flowers of War Thanks to Steven Spielberg
Director is friends with Zhang Yimou.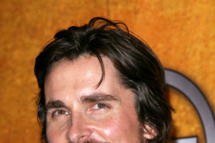 How did Christian Bale, better know now as Batman, end up in China's biggest motion picture ever, The Flowers of War? He did act, as a child star, in 1987's Empire of the Sun, also set in China. But it was that movie's director, the one and only Steve Spielberg, who was the real connection, recommending Bale to Flowers director Zhang Yimou. An early review of the film by the Hollywood Reporter describes the plot, centering on a group of schoolgirls and prostitutes during the Nanjing Massacre, as disappointingly "hokum." Still, it is China's best hope, and its entry this year, for the Foreign Language Oscar. Its production and special effects values, at least, seem up to snuff.