Theater Review: The Tao of Oak Bluffs, Laid Bare in Stick Fly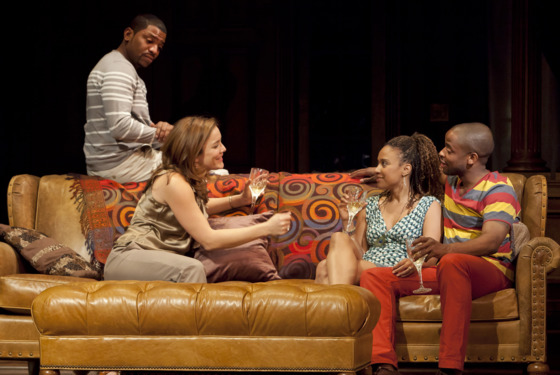 Every moment is a struggle in Stick Fly, Lydia R. Diamond's ambitious, ambivalent, assiduously mainstream interrogation of upper-middle-class African-American life. Struggles nest within struggles: race, sex and class collide, commingle, and collide again. Characters turn on each other and themselves. The playwright herself visibly grapples with what sort of play she wants to write, what style she'd prefer, who her audience is, whom she should punish or redeem, and whether she's even in the punishment/redemption business. The greatest treacheries and the greatest triumphs in Stick Fly all come from within. But the strange part is, after a battle's won or lost or (as is most often the case) fought to a bloody draw, Diamond's combatants—the intellectually hypervigilant LeVay family, along with their lovers, retainers and familiars—simply make up and carry on almost as before. Is this, perhaps, the real secret of the 1 percent: to do tremendous damage to oneself and others, then walk away as if nothing's happened? Or is this just a light, nonfatal case of TV-itis?
Before we go any further, a brief beef chart: neurotic Taylor (Tracie Thoms), the penniless, dispossessed daughter of a famous black intellectual, is in Martha's Vineyard for a long weekend, vying for acceptance into the genteel family of her fiancée Kent (Dule Hill) while simultaneously resenting the fact that she has to vie for anything. Kent, meanwhile, fights for the respect of his father (Ruben Santiago-Hudson), a prickly neurosurgeon armored with the supreme self-regard of the superbly self-made. Dr. LeVay makes sure that Kent, a diligent dilettante and near-novelist on the brink of seeing his first book published, always feels, at best, an effete buffoon, at worst, a dead weight dragging down a line of black royalty. He saves his praise for Kent's older brother, Harold (Mekhi Pfifer), a womanizing Atlanta plastic surgeon, who's also brought along his new squeeze, Kimber (Rosie Benton), Waspy-white and guilty-rich—who, of course, wants to be taken seriously almost as badly as Taylor does. (Who, in turn, once had a fling with Harold—and, so we come full circle.) All the while, the teenaged housekeeper, Cheryl (Condola Rashad)—subbing for her mother, the LeVays' longtime maid—flits around these titans and their dissertative clashes, tidying their messes, parrying Taylor's stigmatizing class pity and quietly dealing with a deep, private trauma—one that involves the LeVays in intimate ways you'll probably guess long before the Grand Revelation. "Seriously!" Cheryl finally explodes, when she can take no more. "[You are] the most self-involved bullshit people! ... You don't think 'bout nothin' but yourselves and your damn socio-economic bantering ... and relationship dysfunction and shit!"

It's a head-clearing moment, probably the peak of the play, not least because it belongs to Rashad, known to audiences for her shattering turn in Ruined. She delivers a performance that anchors a show with a wide draft and a tendency to drift in tone and focus. In the process, she announces herself as a powerful actress at the beginning of a very long career. The play is built around Taylor, and Thoms, after a rabbity start, settles in nicely, making her poor-little-smart-girl's travails resonate. But for all of Stick Fly's thunderous Olympian dialectics and knock-down drag-out debates—on everything from the necessity of racial guilt to the putative role of rape in the creation of America's black aristocracy—only Rashad's Cheryl really has the power to burn through the badinage and into the audience's soul.

Not that the badinage is bad. Diamond is accustomed to writing in a far more experimental, more formally frisky vein (check out The Gift Horse and the don't-call-it-Pirandellian Stage Black, which is, more or less, a deconstructed dry run for Stick Fly), but she displays an abiding affection for and proficiency in the art of verbal fencing. Too often, though, Taylor, Kimber, and the LeVay men (the play's thinnest characters) seem to be floating in a fine mist of wit and writerly flash, while the play itself lapses into the old tricks of cheap melodrama. (Director Kenny Leon, perhaps smelling a mainstream hit, seems intent on playing up these all-too-familiar fallbacks instead of working to problematize them.) Spams of stylized dialogue (characters whose lines overlap in real-time, for example) feel weirdly intrusive in what is, essentially, a "house play." (And what a house! David Gallo's set is a zig-zagging omnibus, rather like the play itself.) I felt privileged to enter the world of privilege Diamond set before me: Audiences get precious few windows on the middle-class African-American experience, and essentially none on upper-class black experience, unless a musician or an athlete is involved. Let's hope this isn't the last: I hope to go back to the Vineyard. If I can get an invitation.
Photo: Richard Termine