Which Movies Made You Cry This Year?
<em>Extremely Loud and Incredibly Close</em> is the latest would-be tearjerker.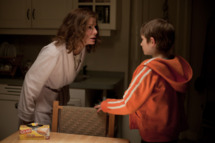 This past week saw the arrival of two movies designed to bring the tears, Steven Spielberg's horse-and-his-boy epic War Horse, and the 9/11 drama Extremely Loud and Incredibly Close. There's nothing like sharing in a good communal cry at the theater, but it got us wondering: Has 2011 had more sniffle-inducing movies, on average? Off the top of our head, we'll admit to tearing up at both Beginners and (unexpectedly) Moneyball, and while kids were even-keeled during The Muppets, nostalgic adults in the audience may have had something in their eye. Which movies this year made you subtly wipe away a tear, or even engage in full-on boo-hooing?