And the 2012 SAG Award Winners Are ...
<em>The Help </em>and <em>Boardwalk Empire </em>win big.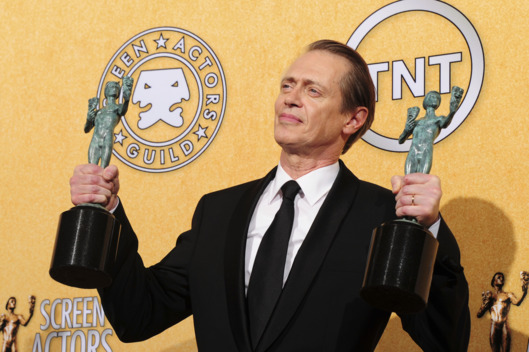 The Artist's Jean Dujardin bested George Clooney, Brad Pitt, and Leonardo DiCaprio Sunday night at the eighteenth annual Screen Actors Guild Awards. Boom! The French star of the Oscar front-runner took home the Best Actor trophy during a show that saw The Help dominating with wins for Best Cast, Best Actress (Viola Davis), and Best Supporting Actress (Octavia Spencer). Boardwalk Empire was the night's next most recognized establishment, bouncing back from Golden Globes losses to notch awards for Best Cast, TV Drama, and Best Actor in a TV Drama for Steve Buscemi. Those keeping score at home can note Jessica Lange (American Horror Story), Kate Winslet (Mildred Pearce), and Christopher Plummer (Beginners) all doubled up on their Golden Globe wins. Vulture has the full list of winners after the jump.
Best Cast, Motion Picture
The Help
Best Actress, Motion Picture
Viola Davis, The Help
Best Actor, Motion Picture
Jean Dujardin, The Artist
Best Supporting Actress, Motion Picture
Octavia Spencer, The Help
Best Supporting Actor, Motion Picture
Christopher Plummer, Beginners
Best Cast, TV Drama
Boardwalk Empire
Best Actor, TV Drama
Steve Buscemi, Boardwalk Empire
Best Actress, TV Drama
Jessica Lange, American Horror Story
Best Actor, Miniseries or TV Movie
Paul Giamatti, Too Big to Fail
Best Actress, Miniseries or TV Movie
Kate Winslet, Mildred Pierce
Best Cast, TV Comedy
Modern Family
Best Actress, TV Comedy
Betty White, Hot in Cleveland
Best Actor, TV Comedy
Alec Baldwin, 30 Rock
Stunt Ensemble, Film
Harry Potter and the Deathly Hallows Part 2
Stunt Ensemble, TV
Game of Thrones