30 Rock Is Going to Sort Out That North Korea Plot
"Technically, Avery is the First Lady of North Korea."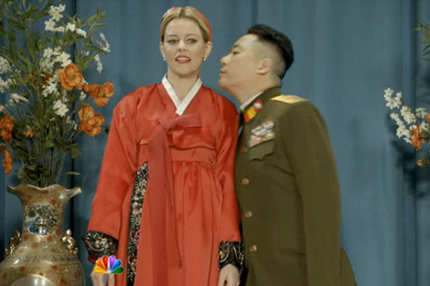 When news of Kim Jong-Il's death broke last month, a very special subgroup of television nerd took to Twitter with concern for the fate of 30 Rock's Avery Jessup-Donghy. Avery, played by Elizabeth Banks, was taken hostage and married off to Jong-Il's son last season; fans assumed that the political developments would throw a wrench in the fictional plan to get her back to the States. Producer Robert Carlock confirmed as much to Us Weekly "Jack's love life is pretty complicated and it just got more complicated because I think, technically, Avery is the First Lady of North Korea." But don't worry, they've got it under control: "We sort of went back to the script because we'd already shot eight or nine episodes and we realized that luckily we hadn't referred to King Jong Il by name yet — just to North Korea in general … the fun puzzle is turning around and trying to figure out how to get her out of there." See, Avery is coming home!