Rob Starts Strong, 30 Rock Not So Much
It was the least watched <em>30 Rock</em> premiere ever.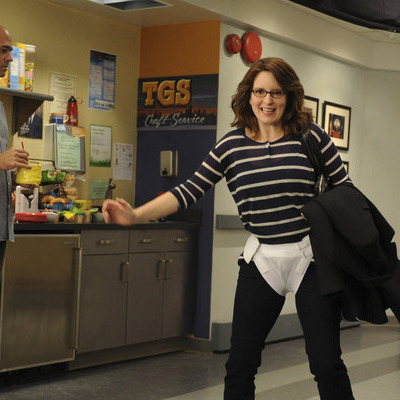 So Rob may have gotten as savaged by critics as Work It, but its ratings weren't nearly as awful as ABC's cross-dressing comedy. In fact, Rob did pretty well in its first outing on CBS (13.5 million viewers, 4.2 rating among viewers under 50), holding on to about 80 percent of its The Big Bang Theory lead-in and giving CBS its best numbers in the 8:30 p.m. Thursday slot with regular series since Survivor left the night in spring 2010. If these numbers hold up in the coming weeks, CBS will almost certainly expand to four comedies on Thursday next fall — but that's only if the numbers hold. The news wasn't as good for 30 Rock.
After a very long hiatus, Tina Fey's Emmy magnet averaged 4.6 million viewers and a 1.8 rating with folks under 50. That's down 30 percent from its 2010 season premiere and the lowest numbers for a 30 Rock season premiere ever. That said, it was also NBC's best performance in the former Community time slot in three months and about what the show was averaging last spring. But 30 Rock was still a weak fourth in its time slot, as was Parks and Recreation (1.9 demo rating) at 8:30 p.m. (though Parks did about what it always did at 8:30). The move of Up All Night to 9:30 p.m. Thursday, which got virtually no promotion from NBC compared to the massively hyped move of Whitney to Wednesdays, resulted in the show averaging a 2.0 rating with folks under 50. That was NBC's best score since November (in other words, better than Whitney), but the show still held on to barely 70 percent of its The Office lead-in. Finally, The Firm tanked (again), averaging a 1.0 at 10 p.m. That's down 29 percent from Sunday's weak two-hour premiere and even worse than Prime Suspect did when it debuted last fall. Finally, the debut of Fox's Bones spinoff The Finder averaged a 1.7 at 9 p.m., losing about 25 percent of its Bones lead-in. Not horrendous, but not particularly great, either.