AMC Shields The Killing From Angry Critics at TCA
The network canceled a panel devoted to the show.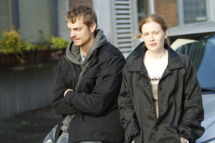 It was to have been one of the highlights of this winter's TV Critics Association press tour: Veena Sud facing a roomful of scornful scribes anxious to grill her over the controversial season one finale of The Killing. Alas, it's not meant to be. AMC today confirmed that it's pulled the plug on Saturday's powwow with reporters, telling Vulture "production needs" and "scheduling conflicts" on the show's Vancouver set were behind the last-minute change. All's not lost, however: Instead of yelling at Sud, the reporters who cover TV will instead be able to interrogate the remaining powers that be at The Walking Dead. Very nice of Frank Darabont to offer fodder for that session.